Product Description
DESCRIPTION:
YASUI RBF 13
Rotating Burnout Furnace
CLEAN BURNOUT, PRECISE CONTROL AND ECOLOGICAL DESIGN
It is NOT ONLY an Advanced Casting Machine which produces a good quality castings, but also the other allied equipment used in the lost wax Casting process that contribute towards the result of the castings. The burnout furnace is a very important piece of equipment in any casting house. It is of utmost importance to have accurate temperature uniformly distributed throughout the entire chamber in order to get consistent results.
The Yasui Rotating Burnout series features uniform heat transfer, due to the displacement of air created by the rotating shelves, within the flask chamber.
Accurate temperatures ensure a safe burn-out during stone-in-place casting.
The Variable Power Heating System automatically and precisely maintains set temperatures throughout the cycles, (20 Programs, with 4 Ramps and 4 Holds each). Internal Dewaxing System collects wax outside the flask chamber. The Afterburner device neutralizes all fumes, odors and pollution produced during overnight burn-out cycles. The narrow door design creates minimal heat loss.
APPLICATIONS:
The RBF13+ can reach temperature up to 950 centigrade and is ideal for casters who cast both gold & platinum.
SPECIFICATIONS: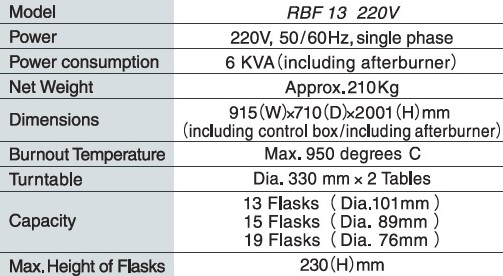 FEATURES:
Consider the following points and decide whether your existing burnout furnace is adequate for you:
Uniform heat distribution with all the flask

Clean burn out for all the investment flask

Carbon free investment flask with good burnout cycle

User friendly operation and stable good result

Minimal heat loss while opening the door

Can do platinum casting with 950 deg flask temperature

Delay timer

4 – Program memory for different metal casting

Over heat protection

Recover from power failure

No smell – less smoke – have after burner

Dewaxing during burnout

New after-burner with longer life
Custom Field
Product Reviews